Professional commercial office cleaning services
We have been cleaning offices across Sydney and Melbourne for over 15 years and work with both large corporations and small businesses.
Our Sydney and Melbourne commercial cleaning company only employs qualified, background checked employees, no subcontractors. If you are looking for a professional commercial cleaning company please don't hesitate to contact us for an obligation free quote.
Professional commercial office cleaning from Infoclean provides you with a neat and tidy office. It will give you the best environment for your colleagues to thrive.
We understand that every office clean and business is different, and you may have particular commercial cleaning needs. We can tailor and customise our office cleaning services to your needs.
Our commercial cleaning company has been helping keep offices clean for over 15 years, and we never contract your work out.
Your office will be professionally cleaned by our experienced staff to ensure your office is spick and span. With a growing team, Infoclean now has commercial cleaners available across Melbourne, in addition to the team of commercial cleaners in Sydney and the Central Coast.
What you can expect from our commercial office cleaners
Office cleaning requires a special skillset than your regular cleaner.
Employees have their own space and can be quite protective of it, so we are very careful to clean thoroughly but make it look like we were never there. Our Sydney office cleaners, Melbourne office cleaners, and Central Coast office cleaners are diligent, and always on time and budget.
We dust, wipe and vacuum all the difficult to reach areas, we clean the telephones, and keyboards and put them back where we found them. We dust behind the monitors mop and vacuum the floors, clear away the rubbish and leave you office refreshed and ready for your employees.
From time to time, some clients request a more detailed clean, generally at the end of the year, or after functions, or events. We can provide cleaning services which will fit your exact needs and address every area of your office.
We approach every one of our office cleans with the specific clients needs in mind. No office is the same and there is no one size fits all when it comes to creating a great working environment.
We are more than happy to meet you at your office and discuss your cleaning needs, in a COVID Safe way. All our quotes are obligation free and at no cost to you.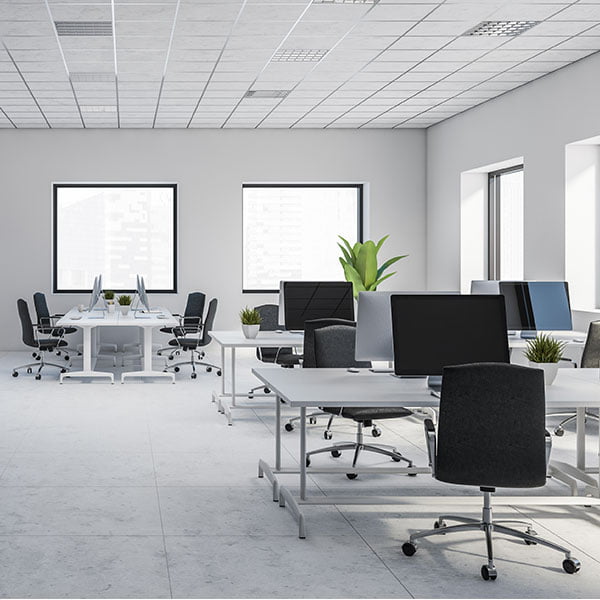 Types of offices and spaces we clean
Our commercial office cleaning services span across Sydney and Melbourne from multi storey high rise offices, smaller strata offices, and offices located in industrial complexes.
We are familiar with every manner of office and how to clean it best.
We would normally suggest that your office or business is cleaned at least once per week. We provide professional cleaners who are very diligent and go the extra mile every time.
Areas we service for office cleaning
What clients say about our commercial office cleaning services
For a better commercial office cleaner in Sydney, Melbourne, or the Central Coast, contact us now