Commercial cleaning Fairfield
We've provided commercial cleaning to Fairfield offices for over 15 years. We take pride in working with both large corporations and small businesses.
Our Fairfield commercial cleaning team consists of background-checked employees and we never use subcontractors. If you're in need of commercial cleaning services in Fairfield, please don't hesitate to contact us. We'd be more than happy to provide you with an obligation-free quote.
A commercially cleaned Fairfield office is the optimal environment that lets you get the most out of your business.
We recognise no business in Fairfield has the exact same cleaning requirements. That's why we offer highly customisable commercial cleaning services, tailored to meet the specific needs of your office space.
For more than 15 years, our Fairfield commercial cleaning company has been passionate about cleaning office spaces. We take pride in the fact that we do not outsource our work, and our highly trained and experienced staff will ensure that your Fairfield office is impeccably clean.
What you can expect from our Fairfield commercial cleaners
Commercial cleaning calls for expertise that is different to your regular cleaner.
We know employees value their personal space, so we take great care to ensure that our cleaning services are thorough yet discreet. Our conscientious team of commercial cleaners in Fairfield are always on time and work within your budget.
Our cleaning services include dusting, wiping, and vacuuming hard-to-reach areas, as well as cleaning telephones and keyboards, and returning them to their original positions. We also dust behind monitors, mop and vacuum floors, and dispose of rubbish, leaving your office fresh and ready for the next working week.
Some of our clients may ask for a more thorough clean, particularly at the end of the year or after functions and events. As such, we can offer customized cleaning services that cater to the specific needs of every area within your Fairfield commercial space.
For every commercial office clean in Fairfield we always put the customer's needs first. We understand that no two offices are the same, and we strive to create a tailored cleaning plan that will help your company enjoy a wonderful and productive environment.
We will gladly meet with you at your office to discuss your cleaning needs in a COVID Safe manner. Our quotes are always obligation-free, and come at no cost to you.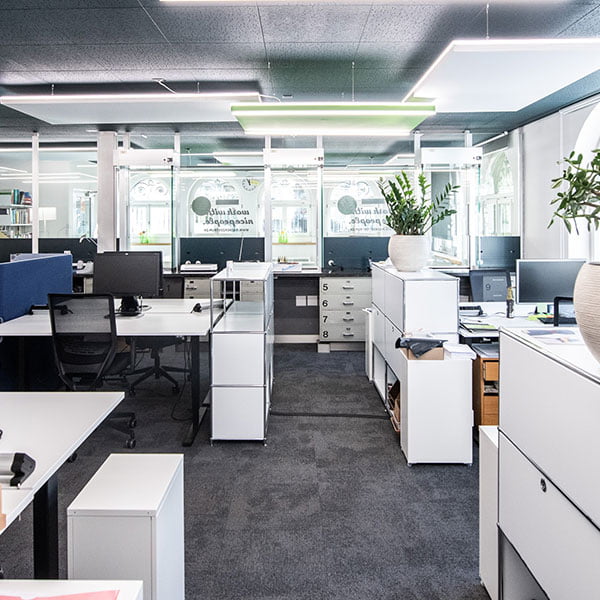 Types of Fairfield offices we commercially clean
Our commercial office cleaning services are available throughout the whole of Fairfield. We have the knowledge to clean a diverse range of office spaces including multi-storey high rise offices, small strata offices, and offices situated in industrial complexes.
Our team of experts is well-versed with the nuances of every type of office in Sydney and is equipped to provide the best cleaning solutions for you.
We recommend that your office or business in Sydney be cleaned at least once a week. Our professional commercial cleaners are very thorough and committed to going the extra mile every time.
Areas we service for commercial cleaning
What clients say about our commercial Fairfield cleaning services
For a better commercial cleaner in Fairfield, contact us now